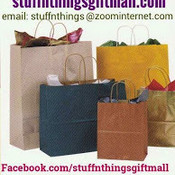 joined 07/02/14
active 09/07/21
About Me
FIND SOMETHING FOR EVERYONE.
FORGET ABOUT GAS PRICES.
SHOP IN YOUR JAMMIES.
We have a VAST Inventory of over 2,000 items for your Arts & Crafts; Bed, Bath & Body; Beauty; Books; Clothing, Shoes & ...; Furniture & Décor; Electronics & Accessories; Games & Toys; Home Décor; Home Essentials; Home...